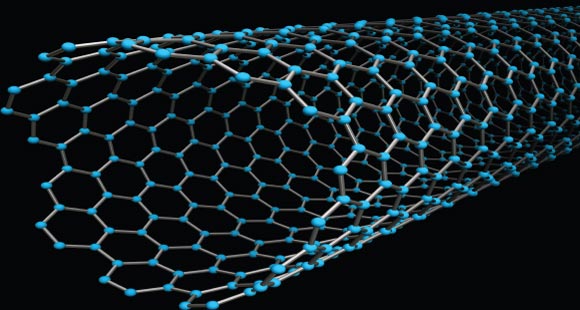 Nano Fortify is composed by numerous tube-shaped carbon fiber.This technology can optimize high resilience. With bending strength to generate high repulsion, which enhance attacking power on every single hit.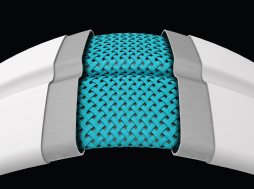 Liquid Crystalline Polyester fiber originated and created by Japan with interwoven braided layer, quickly absorbs vibration in order to enhance outstanding elasticity and stability during the game.

SHARK TEC is inspired by the skin of shark. Shark skin's sandpaper-like surface is added to the racket frame to reduce air resistance, which can enable the player with a smoother shot.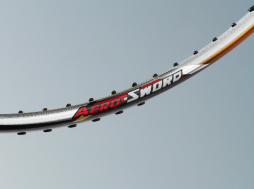 Innovative technology combining the two popular frame structure SWORD and AERODYNAMIC, the AERO-SWORD can efficiently reduce air resistance and allowing a faster and greater hitback.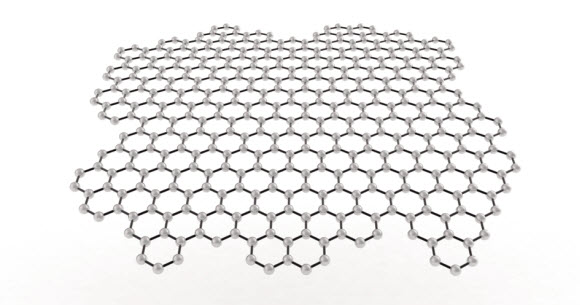 Graphene is composed of carbon atoms arranged densely in a hexagonal honeycomb crystal lattice , which has become one of the lightest and strongest materials in the 21st century. By only one gram of graphene can bear five tons of weight . Combining with carbon fiber , it fortifies the racket frame and makes the racket get lighter and stronger , which causes a revolution in a way of racket performance.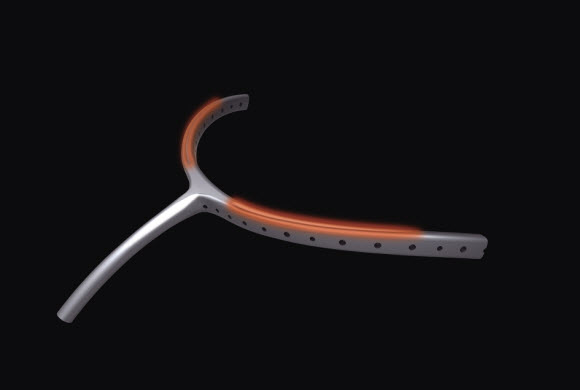 Frame Enforcement: CATAPULT STRUCTURE

CATAPULT STRUCTURE stores power and releases at smashing for maximum effect .
POWER BOOST 9.75%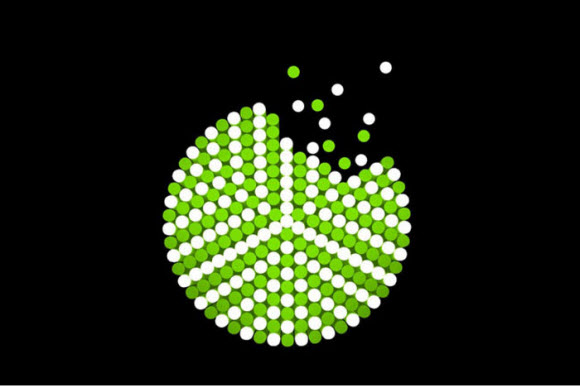 Breakthrough of manufacturing process, combine two physically contradicted compounds and create a new material with advantages from both.


The single-pass grommet hole construction creates less friction between strings, this effectively reduces tension loss, while extending string life.


The single-pass grommet hole construction creates less friction between strings, this effectively reduces tension loss, while extending string life.


By winding continuous strands of carbon composite fiber at arranged angles, the exclusive SPIRALWIND™ technology processed racquet is stronger, and more stable than a regular racquet, provides better torsion resistance, accuracy, and full power from swing energy.


The reinforced woven carbon fibre technology uses the X shape interweaving to closely weave the layers of carbon fibre, forming a strong powerful network of tense carbon graphite. This adds torsion stability to the racket face and the shaft.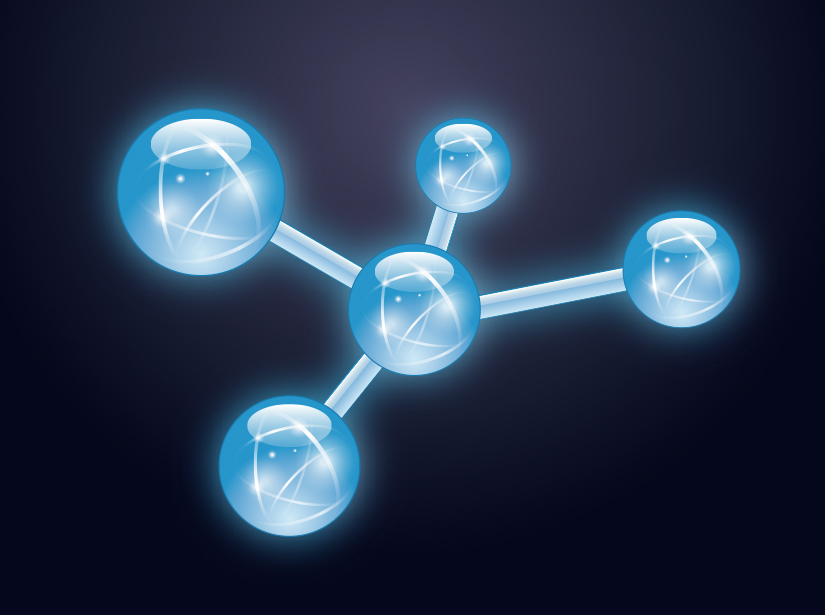 The NANO TEC technology works by evenly distributing nano-sized particles in the vacant space between carbon fiber bundles, this highly increases the overall stiffness of the carbon composite fibers, and reduces the distortion of the frame.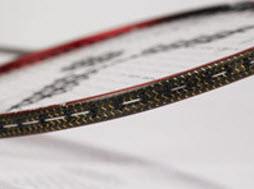 E.TITANIUM technology combines the titanium alloys that are generally used by the aerospace industry with carbon fiber, creating composite that is strong and stable. With E.TITANIUM technology applied on the frame head, a greater "moment of inertia" is created, making it more easy to launch a powerful smash.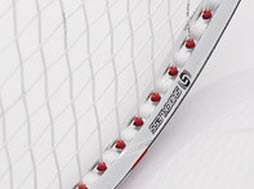 Special shock absorbing materials are located on 3 and 9 o'clock; significantly reducing the shock of impact.


The Peak Waves technology and the double interweaving combine to create a vertical string stability system with 7% less string tension loss compared to an ordinary racket. It provides greater face stability and not only increases the fit of the strings, but also reduces wear and tear for better racket durability.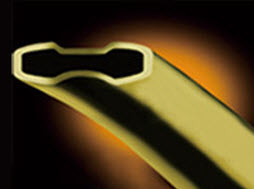 The ARC TEC technology applied on the inner frame can enlarge the sweetspot by 5%, improve maneuverability.


The INNER WAVES technology lengthened the string, with 5% extended sweetspot, significantly reduce shock, provides more maneuverability and face stability.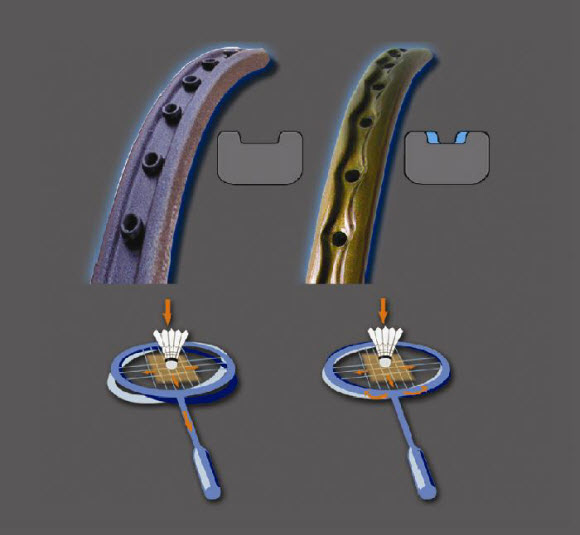 The POWER WAVES design create a wave-shaped groove on the rim of frame, which increase the strength of frame by 10%, provides a better torsion resistance and reduce distortion. The groove can also protect the strings, extended string life.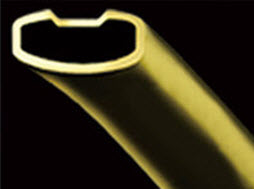 The box-shaped design effectively increases the stability and anti-torque, can stand higher string tension.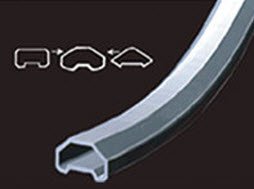 By uniting box and triangular shape design, the diamond-like hexangular-shaped section provides more face stability and improves maneuverability and hitting power.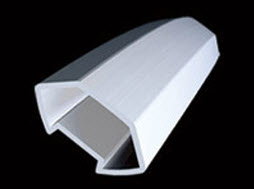 This diamond-shaped design cuts through the air like sword. It significantly reduces air resistance and provides a faster swing speed.


The elliptically-shaped section can decrease the air resistance, provide higher anti-torque, maximize control and vastly increase the speed of returning hit.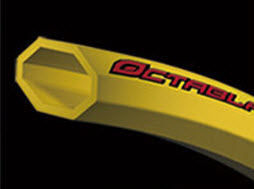 The octablade cross-section design combines the shapes of a rhomboid and a hexagonal structure and provides better Racket face stability, reduces air resistance, and improves attacking power and control.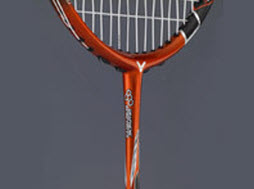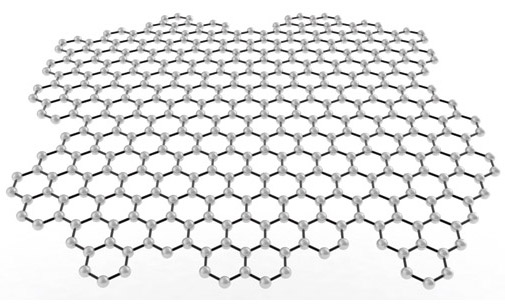 The Nobel Prize honored strength. The strongest material in the 21st century.
Graphene is composed of carbon atoms arranged densely in a hexagonal honeycomb crystal lattice, which has become one of the lightest and strongest materials in the 21st century. By only one gram of graphene can bear five tons of weight. Combining with carbon fiber, it fortifies the racket frame and make the racket get lighter and stronger, which causes a revolution in a way of racket performance.
Technology:Graphene Reinforced